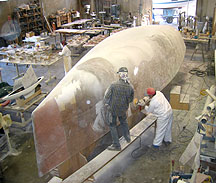 Our staff has many years of experience in building and repairing fiberglass boats, rudders, and related products. FinCo actually began as a boat-repair shop in 1990, then expanded its services to include the construction or renovation of fiberglass vessels ranging up to 60 feet in length.
Our craftsmen can handle complex maritime fiberglass projects of all types. Among other assignments, they have crafted the hulls of custom Scarab off shore boats, created decks and hulls and constructed entire deck assemblies for large U.S. Navy patrol boats. Our principal maritime services include:
Boat Construction, Renovation, and Repair
Boat Extensions and Modifications
Maritime Tooling and Mold Making
Male and Female Plug Manufacturing
For more information about our maritime services, please call (714) 973-2878 or contact us at our offices in Santa Ana, California.
| | | |
| --- | --- | --- |
| Applying fiberglass to a boat mold. | | Buiding a sport fishing vessel. |