Case Study in Figurines

Several years ago, entertainment executive Fred Barton came to FinCo with an interesting product idea. He wanted to sell full-sized fiberglass reproductions of Robby the Robot, the famous movie robot that starred in "Forbidden Planet," "Lost in Space" and other sci-fi shows dating from the 1950s right on through the new millennium. Fred had even acquired the original "Robby the Robot," which was essentially an elaborate movie costume worn by a small actor who operated the robot suit from the inside.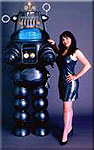 Our craftsmen disassembled the "Robby" costume, and then used the parts to create molds for reproducing much of the robot in fiberglass. Fred Barton still uses our molds to create his Robby replicas. Movie buffs can buy their own studio licensed Robby the Robots from Fred Barton Productions in Beverly Hills.